A girl has been stuck on my mind recently, not just any ordinary girl but specifically the last Queen of France, Marie Antoinette, recently she's been Influencing me alot questioning my Design aesthetics and making me fell in love with bright colors (pink & pastel colors to be exact), laces, & Victorian motifs. for someone who loves dark & Gothic like me, this is indeed pretty unusual of me. one would not instantly fall in love with the Queen's Fashion at first glance, well you might say she looks interesting but it's a matter of deep research that makes you like her, her life, and her Fashion.
Fashionably the thing that pops to my mind upon hearing "Marie Antoinette":
~Pink~Pastels~lace~silk~Victorian~Versailles~gold~pearls~cakes~shoes~hair

What do all of this have in Common?..This Details are all in a Hime & Lolita's outfits. for me I think if I love Lolita & Hime Fashion so much I would get inspiration on Marie Antoinette, the style is very similar to Marie Antoinette's (not to mention the hair) only modern though. Marie Antoinette being on the forefront as one of the first Fashionista's In history, well, she has the right to own the style and say "hey, I started that style"
It's just so inspiring and as soon as the term ends I can't wait to start producing stuffs!
THE MOVIE
There has already been a lot of movie adaption of Marie Antoinette from the early 1930's up until now, but probably the best movie so far is that of Sofia Coppola's Marie Antoinette, where Kirsten Dunst played the role of the teen queen. the movie was more Focused on Marie Antoinette's Teenage years and ending the movie on their fairwell to Versailles, the chapter where the royal family was held as captives were not included in the movie as i said they focused more on her teenage years.
and of all the Marie Antoinette movies made only Sofia Coppola's team was given the chance to shoot the movie on Versailles itself! and even letting them use rooms which aren't open for the public.
usually when you watch movies specially that of the old times movie like Eizabeth, Victorian movies you'd go like, its rusty, old, a bit dull, and simply unfashionable, but the Marie Antoinette movie bursts with colors & pastels, with a young and less serious feel. left me wondering when tween music like "I like candy" suddenly starts to play during the movie. all and all the movie is an eye candy to the eye, making you wanna live during Marie Antoinette's reign and be able to mingle with her on the courts of Versailles *U*
"If the People don't have Bread let them eat Cake!"
This were the Famous lines of Marie Antoinette but this wasn't true, this was one of the many rumors that the press made to make the people of France hate the graceful Queen.
The movie was as such a hit that came next was the cover of Vogue Magazine. Given the privilege to shoot inside The Versailles like that of Sofia Coppola's team.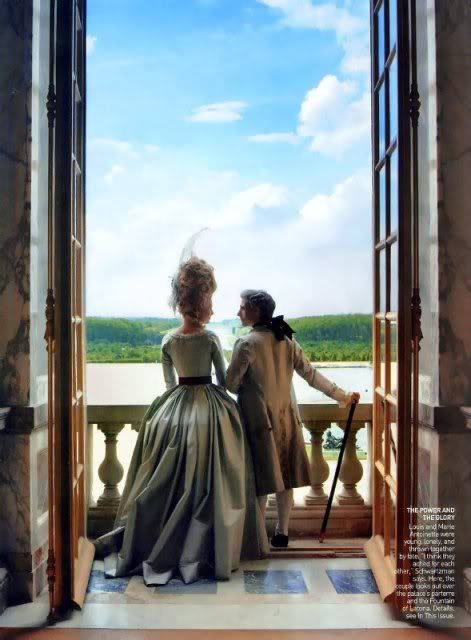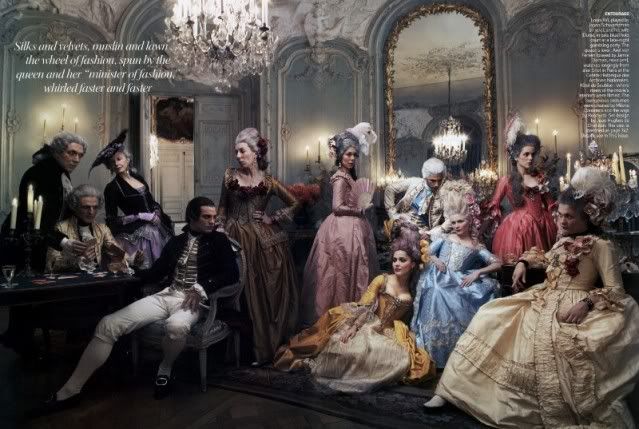 The 20 yards seamless Oscar De La Renta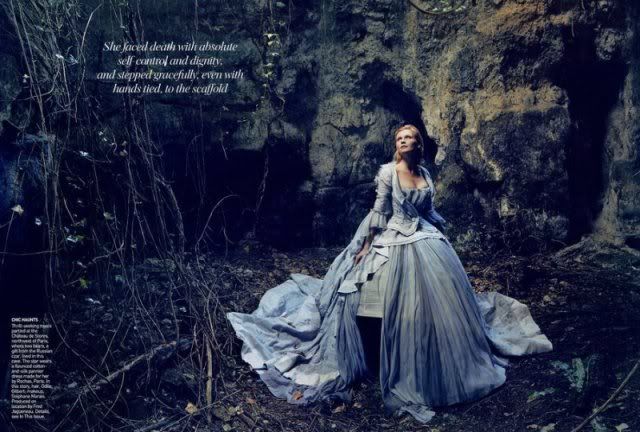 Oliver Theyskens
The Chanel Embrodied gown by ten people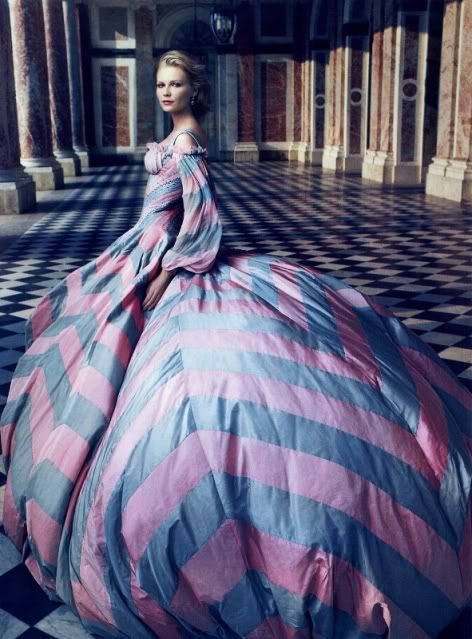 The Voluptous Alexander McQueen Gown
The Dior Foil Gown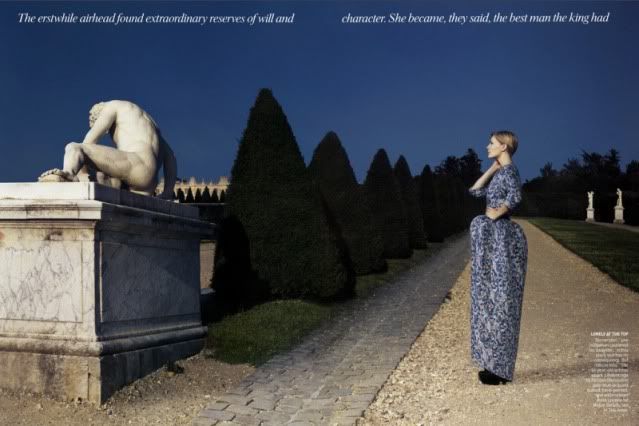 Balenciaga